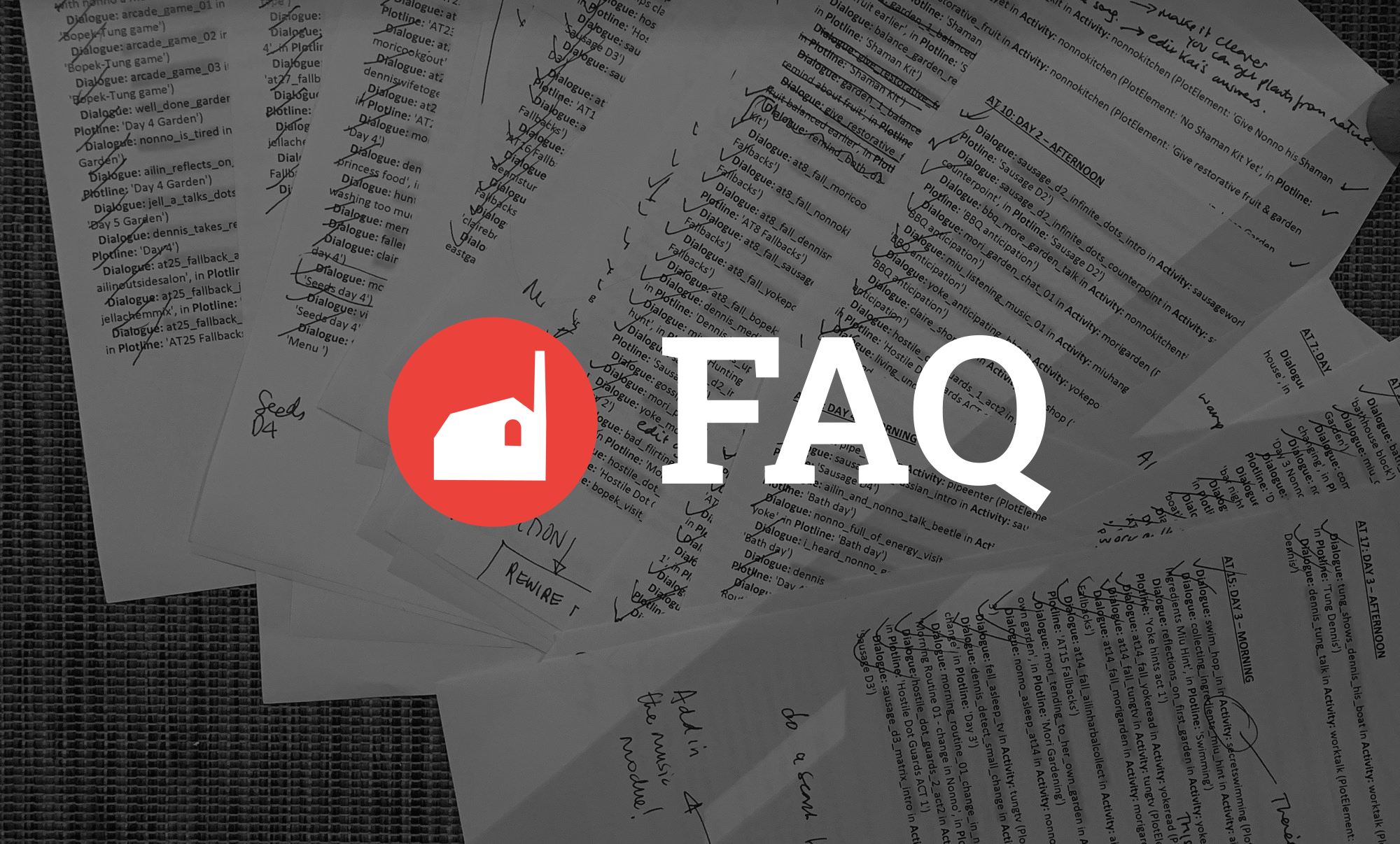 FAQ - intern applications.
Last year we were overwhelmed with interest in our internship call for applications and that also produced a lot of frequently asked questions! So this year we wanted to provide a quick FAQ to help you feel confident in your application. You can also read the Advice for Applicants post Char wrote last year if you want more general advice (although do note that's shaped around the first role and process).
Questions
What's the difference between last year's role and this one?
The previous role was an all-round Story Tech, Narrative Design and Writing role. It meant doing some game design for the story (narrative design), some story tech work with our story tools and the game engine, and some writing. This time we're just looking for a writer. As a small studio working on a single project the roles we can support will change with the place we are with that project. At the stage of production we're in, most narrative design questions are answered, we have a complete world and story, and we have a dedicated Story Tech, so this role is just for a Writer - someone who will work with simple game writing tools (that we'll support them in learning) to write for specific characters and specific scenarios, always to a very clear brief.
Do I need to live in Denmark?
No, we're accepting applications from anywhere within time zone constraints, so you don't need to be a Danish resident. The studio operates completely remotely and has collaborators based all over the world. Though you will be contracted differently if you're based in Denmark (as an employee), than if you're abroad (as a freelance contractor, responsible for paying your own taxes in your country of fiscal residence). That's just down to local labour laws about hiring across borders.
I live in a time zone that's quite far away from the studio's time zone (CET). Can I still apply?
It depends on you and your personal circumstances — if you tend to naturally work and organise your day in a way that matches up with our studio work hours, then we welcome you to apply. If you're not confident that you'll be able to have your working day cross over at least four hours of the 10-6 CET working day Monday-Wednesday, including 14:30 every Wednesday this might not be the right opportunity for you.
Unfortunately this is one area we're unable to be flexible on - as we need you to be able to collaborate live with many of our team members.
Do I need to be a published or produced writer?
Not at all. You just need an appropriate writing sample, as outlined in the call for applications.
I'm still not sure if I'm qualified to apply
We're aware that marginalised candidates often count themselves out if they don't fulfil every criteria, and so we want to acknowledge that and encourage you to apply if you fit more than half of the experience criteria! Apply, the worst that can happen is that it's not a good fit, the best that can happen is that you're invited to a writing test!
Is it okay if I'm not very familiar with video games?
Yes! This is totally fine, as long as you have an interest in working in the field of games.
Is it okay if I take on the internship alongside a job or academic program?
We tend to prefer that you don't pair this with an academic program unless that program is explicitly part time. We need you to be totally free to work 2 days per week some time Monday to Wednesday. You can certainly pair this with a part-time job, just not a full-time obligation. We're not comfortable with people in different timezones planning to add a part time role to an existing full time role that occurs in different times, as we also are anti-crunch and pro-rest.
I have accessibility or care needs (parental or otherwise) that mean I'm unavailable during certain times of the day, or need to work in a certain way. Can the studio accommodate me?
Yes. We're very flexible and accommodating of individual needs. Before you start with us, we'd have a conversation about what your needs are and how we can arrange your meetings, comms and workload around you, apart from the meeting and day/time requirements, we'll take care to provide you with the tools, accommodations and technology you need to collaborate with us.
I speak English as a non-primary language, will that be a problem?
No, this isn't a problem. We'll need your submitted writing sample to be in English, and we're ultimately looking for a candidate who can write extremely fluently in English - with an ear/eye for UK English idioms, dialogue, spelling; but there's no need for it to be your first language.
I'm new to the industry, and I'd ultimately like to be a narrative designer/programmer/designer/artist/producer. Would this programme still be useful for me?
Unfortunately no, the programme is very heavily focused on writing, and while we do also hope to provide an insight into the day to day operation of a games studio, the support, mentoring and experience we'll be offering are best suited to someone interested in games writing.  
Can we apply as a writing duo?
Unfortunately we can only accept and support indvidual applications for this role.
Do you have any advice for applicants?
Be clear, don't try and stand out using gimmicks, don't tell us about how you've always loved games and/or writing. Talk about how you'd like to develop, and how you think your sample exemplifies your practice. For more, read the Advice for Applicants post Char wrote last year (though note it's based on the previous role), which is good general advice based on the most common issues we saw last year. Most of all, imagine someone has just read 1000 other applicant statements, how would you want an application presented at that point?
Can you tell me more about the next stages/timings.
Timing will depending on how many applications we get - if we get a very large number we might need to adjust our timings, but if we do, we'll communicate this via the email you submit as part of your application. We hope to notify long-listed candidates in the first few weeks of January. The next step for long-listed candidates will be a paid writing test, which should take only a couple of hours and will be paid on the basis of our studio day rate. You will have a week to complete the test to a clear brief. Then in the final week of January we'll interview shortlisted candidates. Decisions will be fairly quick after that. This is all rough and might move and we'll only notify people if we're delayed by more than two weeks.
I want to know more about why the process is designed this way.
If you'd like to know about the design of our process and how we try and make it as open and approachable as possible, we wrote up last year's evaluation and how we've tried to learn from it here: What We Did and What We Learned.
I have a question that hasn't been addressed here. How can I get in contact?
Please email recruitment@gutefabrik.com and we'll get back to you ASAP (please note, we are a Monday-Thursday studio, so expect a slight delay for messages sent at the end of the week).