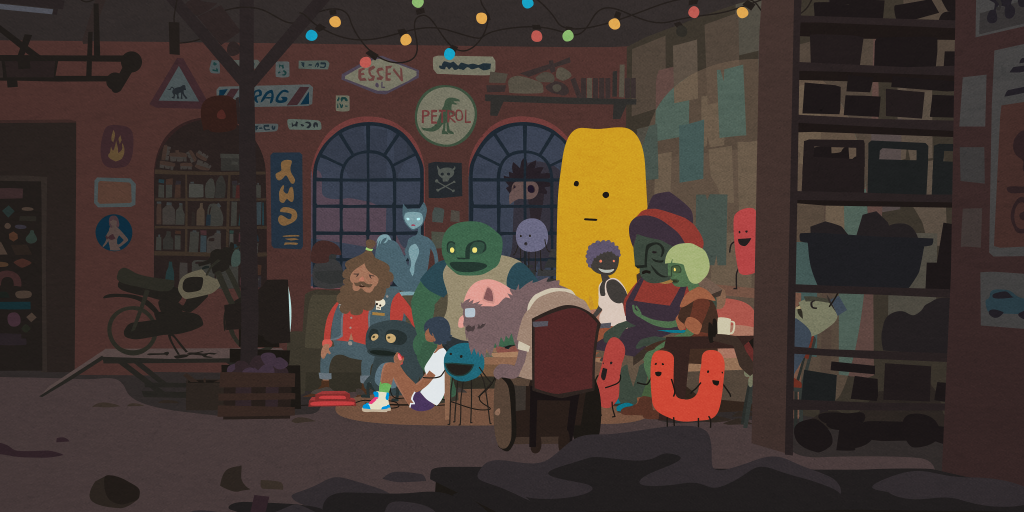 Recruiting: a Part Time, Experienced Project Manager
We're pleased to announce an open call for CVs accompanied by a cover letter for a remote, part-time (3 days per week) freelance Project Manager, able to work with CET timezone. For full details, job description, and how to apply, read on!
Deadline: Tues 22nd November 2021, 18:00 CET
Die Gute Fabrik are looking for an experienced Project Manager to support the production process of their forthcoming unannounced game.
'Experienced' here means shipping a game end to end in a similar role, ideally with some console experience. To read more about who you'll be working with, check out our PEOPLE PAGE. This role is part time, and would suit freelance project managers with a few projects, those returning to work after parental leave, and anyone who's comfortable with a 3 days per-week position. This position is not suitable for recent graduates without industry experience.  
Please note, Die Gute Fabrik is based in Denmark, and because of employment laws here it's not possible for us to directly encourage any particular group of people to apply, but as a diverse team (including PoC, people living with disabilities, neurodiverse people, LGBTQ+ folks, including in leadership roles) we want to emphasise that Die Gute Fabrik is committed to creating a diverse workplace environment and is proud to be an equal opportunity employer. We encourage anyone interested in the position and with the relevant experience to apply, irrespective of race, colour, religion, gender, gender identity or expression, sexual orientation, nationality, disability or age.
We also want to acknowledge that marginalised candidates often count themselves out if they don't fulfil every criteria, and encourage you to apply if you fit more than half of the experience criteria (though timezone and availability isn't something we can flex on easily for a project management position which will include a lot of meetings).  

Vital Stats
Company based in Copenhagen but is fully remote (if outside of Denmark you'd be a contractor, if resident in Denmark, you'll be a fixed term employee)
Diverse studio including POC, LGBTQ+ folks, neurodiverse & disabled folks.
Budget for WFH additions like mic/screen/ergonomics
Flat rate in studio of 2900dkk (~£330/$450/€390) per day, freelancers invoice monthly. More details on compensation structures available at interview.
Fixed term contract starting in Dec or Jan 2021 running until Feb or March 2023.
The position is 3 days per week in a 4 day week studio with flexible hours but must sync up for meetings, and be comfortable with CET timezone. No working on Friday, but your hours can be spread as you like between Mon-Thurs, so long as it works for the role and you.
Unity/Ink/Jira/Notion/Slack/Google Docs
The Project Manager will: help run process, meetings, plan with departments, and be confident about keeping everyone in check - taking the initiative to plan and re-plan, flag concerns about timescales/workloads, support task tracking, comms, milestone delivery etc. and work towards producing an ambitious new DGF project from production to release. Working with Studio Lead (Hannah Nicklin) & Creative Producer (Ben Wilson).

Full job description
Perform the responsibilities and tasks of a Project Manager on the next unannounced project from Die Gute Fabrik. This includes the following:
Planning, running and sharing notes from meetings.
Undertaking short, mid, and long-term project planning with all departments.
Preserving the 'big picture'; making sure the company is on track for internal and external deliverables.
Take the initiative - flag issues before they become a blocker.
Introducing relevant tools or practices to support these goals.
Work with Studio Lead & Creative Producer to take key production and project management decisions.
Research, share knowledge, and develop solutions to project management challenges. Identify risks and provide relevant solutions.
Actively work with department leads to facilitate the information flow. Support all departments in forming time estimates, and in tracking their progress.
Collaborate with the Studio Lead and Creative Producer to prepare materials for milestones and evaluations.
Help design systems for communication, collaboration and documentation which are supportive of the team, accessible to any team members with accessibility requirements, and which are consciously inclusive of BIPOC, LGBTQ+, and other marginalised people.
Collaborate with the team to strive for a game which is accessible, ground-breaking, and excellent.
Perform other related duties.

Personal Qualities and Experience
Remember, if you hit at least 50% of these, you should apply!
Comfortable working remotely.
Awareness of many different areas of game development: art, bizdev, programming, QA, writing & narrative design amongst others.
Keen ability to listen, interpret, and catch missed communications
An enthusiasm for, or interest in the kind of games Die Gute Fabrik make.
Experience working with Unity
Comfortable pushing for better communications, prep, documentation, and task tracking, and taking the initiative/spotting problems others might have missed.
Experience of working on games for Console and PC
Experience supporting localisation and VO processes.
Good oral and written communication in English
Flexible and open-minded
Good analytical and problem-solving skills
Detail oriented
Thrives as part of a team
Committed to maintaining a supportive and welcoming environment for diverse and marginalised peoples.
To apply
Deadline:  Tues 22nd November 2021, 18:00 CET
Write to recruitment [at] gutefabrik.com with 'Part Time PM - YOUR NAME'
Include an up-to-date CV
Attach a 1-2 page cover letter explaining how your experience suits you to the role.
In the body of the email include your interview availability for Tuesday-Weds the week commencing 29th November, 10am-5pm Copenhagen time.
Please also let us know if you have any accessibility requirements for your interview. We will be conducting the interviews in Google Meet where closed captioning is available.
We will respond to all candidates who we would like to interview by the end of Thursday 25th November at the latest.