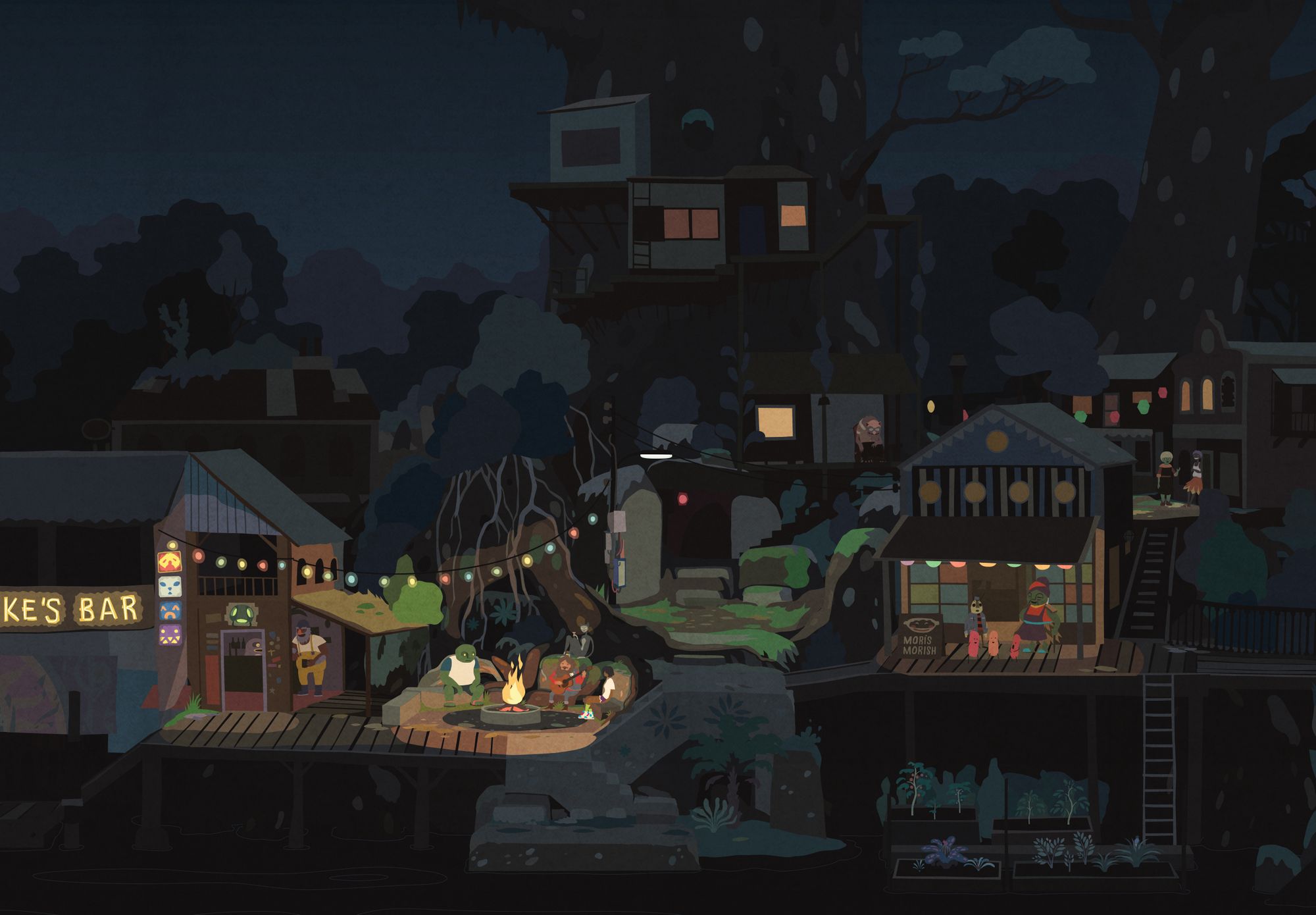 2022 Game Writing Internship - We are accepting applications!
Die Gute Fabrik are opening a call for applications to a GAME WRITING Internship supporting the process of the development of their next game. This is a different role and skillset to our previous Narrative Design & Writing Internship.
Narrative Design is game design with story at its heart (it doesn't have to involve writing at all), whereas this internship is for someone who will learn and specialise in writing only. It therefore suits entry-level writers of all varieties, and those interested in transitioning to games writing from another story discipline.
If you haven't worked professionally in games before, we encourage you to read the job listing and decide for yourself if you would be suitable for the role. This internship doesn't require any past work experience with games, and we are ready to dedicate the necessary support and resources towards onboarding and mentorship for the candidate when they start.
The job listing will be open from MONDAY 13th DECEMBER 2021, the deadline for the light-touch application process is MIDNIGHT 2nd JANUARY 2022 and the recruitment process will be completed by the end of January/Early Feb. If we need to extend our timelines because of a large volume of applicants, then we will let people know via the email they submit on applying. Please check your email is correct before submitting.
There is an FAQ about the process available here.
---
---
Please note, Die Gute Fabrik is based in a country where Positive Action isn't supported by employment law, however, as a diverse team (including PoC, disabled people, LGBTQ+ and women) we want to emphasise that Die Gute Fabrik is committed to creating a diverse workplace environment and is proud to be an equal opportunity employer. We encourage anyone interested in the internship to apply, irrespective of race, colour, religion, gender, gender identity or expression, sexual orientation, nationality, disability or age.
We are aware that marginalised candidates often have less confidence in applying for positions than non-marginalised candidates, and so we would like to explicitly reassure you that 1. This is a genuinely entry-level opportunity and 2. We really genuinely will treat all applications, including those from marginalised candidates, equally.
---
Who We Are
Die Gute Fabrik are a Copenhagen-based story-driven game studio, who most recently worked on the multi-award-winning Mutazione.
We aim to draw inspiration from a variety of disciplines and histories, and to continue to push the boundaries of our ideas about what games can be; from multiplayer games based on folk play, to story-driven games which draw inspiration from soap operas, ensemble cast storytelling, television and theatre.
We make work which is driven by excellence, intentionality and care.
You can check out our current team here, on our People page: www.gutefabrik.com/people/
---
The Internship
Die Gute Fabrik are opening a call for applications to a 5-month Game Writing Internship supporting the process of the development of their next game. This is not a Narrative Design position. You will be mentored and supported to work as a writer in game tools and in a game storytelling context.
The Basics
5 month internship, starting in early February 2022 (ending June, therefore)
2 days per week (ideally split over Monday-Wednesdays)
Entirely remote, crossing over with Copenhagen time 4 hours per day, and syncing up for regular meetings at 14:30 CET on Wednesdays.
Paid the company-wide flat rate of 2900dkk per day or equivalent salary if based in Denmark.
Note: While we are a Danish studio, we don't require our internship applicants to be based in Denmark. Our studio is run fully remotely, with a team made up of members who are spread out across the world. We're happy for you to apply from anywhere, so long as at least four hours of your work day can overlap 10AM to 6PM Central European Standard Time (GMT+1).
---
The Role
Your job will be to support the operations of the Story department through:
Reading documentation, absorbing and understanding the game world, characters, situations and tools in which we will be working.
Writing in Inky (no previous knowledge of Inky is necessary - we will teach you!)
Taking part in regular Story Team meetings where we will discuss content, shape storytelling decisions from a writer's perspective, and gather what you need to write effectively.
Writing several short scenarios per day, using pre-prepared characters, world and outlines.
You will be managed by Story Lead Char Putney, and Creative Producer Ben Wilson, both of whom will be there to support you in the role.
---
The Support
On top of this you will receive:
Dedicated mentorship time each month - you will be mentored by Studio Lead Hannah Nicklin in once-per-month meetings to help you develop your confidence, expertise, and wayfind in your writing career and practice.
Access to paid online events which the company opens up to the team (i.e. online-run conferences in the era of COVID)
We recognise that there is a technological barrier to entry for many marginalised people attempting to work in games, so a work laptop will be provided that can comfortably run an industry-standard game engine. You will be able to keep this after the internship is finished.
A full credit on the game for your work.
Introductions and featuring on the Die Gute Fabrik blog on joining and finishing your time with us.
---
What we're looking for
Someone who can write well (no previously published/performed works necessary - but you will need to demonstrate flair and skill in written English.)
Someone with an interest in writing for games (no previous experience required) you don't have to be someone who plays games in every spare hour of your time, or have all the most recent consoles, you just have to be interested in games storytelling as a form, and eager for the challenge of working within the medium.
Someone who is fluent in English, and comfortable communicating with a diverse and remote-only team.
Someone who can sync up with Copenhagen time, although it's okay if this isn't 10-6 every day.
Someone eager to learn, with support, including developing story-relevant skills in programs and tools such as Inky, version control software, and documentation and collaboration in e.g. Notion, Slack, Google Docs.
Someone eager to develop writing skills in the context of video games. You could be transferring skills from other media such as TV, Film, Theatre, Literature, and you can be of any age.
Someone who broadens our perspectives. Die Gute Fabrik are committed to telling more diverse stories about the world, and having voices on board who can broaden our perspectives on the world helps us to achieve that goal.
---
How to Apply
If you're interested in applying, head over to our application form. In it, we'd like you to tell us a little bit about what you hope to gain from the internship, and we'd like for you to submit 2-3 pages from a piece of creative writing that you're particularly proud of and you feel represents you creatively.
If you're selected for our long list, we'll contact you about the next steps of the process, the second phase of which will include a paid writing test, followed by a final interview phase.
Unfortunately we'll only be able to select one candidate for our internship, and we know we're going to have to turn down some great people in the process. With this in mind, there's also a space in the application for where you can give us permission to keep hold of your details for future internship opportunities. All data will be held and treated in accordance with GDPR best practices.
The deadline for applications is MIDNIGHT CET on JANUARY 2nd 2022.
Although we also reserve the right to extend the open period by an additional week if we don't have enough applications (unlikely judging on last time).
We cannot offer feedback to applicants as part of the phase 1 of applications, as we are a small team (3 people) who are also concurrently making a video game. Last time we had thousands of applicants. If we receive a similar volume of applicants this time and we need to extend timelines we will email all applicants, and thank you for your patience in advance.
---
Do you have questions for us?
We are really happy to answer any questions or concerns you have before you apply. BUT before you write to us, please take some time to look through our FAQ, and the post Advice for Applicants, which Char Putney wrote last year based on last year's role and recruitment process.
Please email recruitment@gutefabrik.com and we'll get back to you ASAP (please note, we are a Monday-Thursday studio, so expect a slight delay for messages sent at the end of the week).