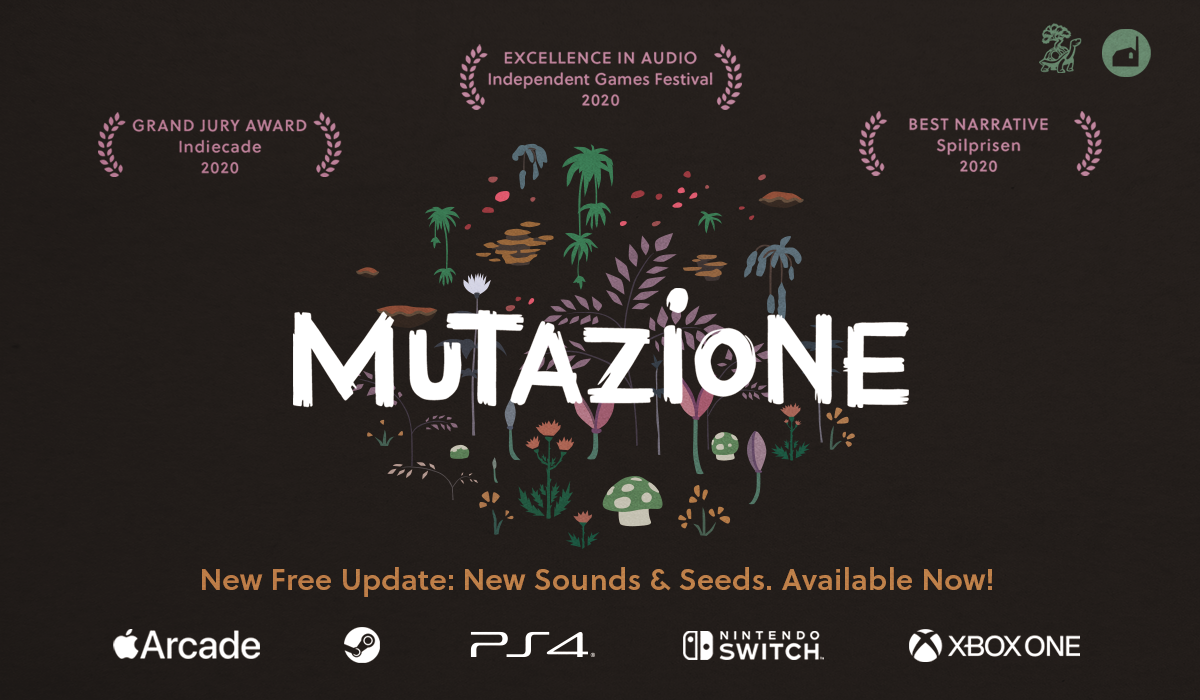 Free MUTAZIONE Update: New Sounds & Seeds
Almost three years on since our mutant soap opera Mutazione's original launch, we're delighted to offer a final free content update to our award-winning game.
New Sounds & Seeds
This final content update includes a new selection of plants for players to collect for the standalone Garden Mode; a toy-like version of the magical musical gardening mechanic which also features in the story mode of the game.
In Mutazione's gardens, each seed has its own corresponding musical sound or instrument which plays as it grows. As you plant different seeds together across the 8 unlockable gardens, you build beautiful compositions that thrive and shape as time moves on.
Some of these new seeds are quite rare, and you may need to use the 'seed-sharing' feature to share and trade with other players to collect them all. You won't want to miss the super rare Indigo Beak, one of our all-time favourite Mutazione plants - it features a beautiful vocal sound in the Mood Melancholia performed by singer Stefania Secci Rosa. Or maybe your garden composition would be enhanced by the soothing Spooky organ melodies of the curious Federfern. There are 11 new seeds in all, and we've saved some of the best for last!
This final content update brings us up to over 120 different plant species (and instruments) in total, in turn consisting of thousands of individual music files specifically hand-crafted by our composer and audio designer, Alessandro Coronas. We're super proud of his work.
Looking Back
Since the game's initial release in September 2019, we've rolled out a number of updates: freeform Garden Mode with Cloud Garden, the opening up of the Seven Gardens in Garden Mode, and the small durational update on the community of Mutazione two years on, which you'll find in the Penpal epilogue.
Of course we're equally as proud of this final content update, but bringing this chapter of Die Gute Fabrik's work to a close is also a little bittersweet. The story of this game is something that we've lived with for years - as far back as the late 2000s, when Creative Director Nils Deneken began drawing sketches and dreaming up the world, which you can see from this gorgeous thread he posted on Twitter.
We want to wrap up by offering a heartfelt thank you to all the players who have enjoyed the game along the way; every kind tweet, review you've left, email you've sent, and piece of fan art makes the hard work we put in feel worth it.
Return to Garden Mode
Meanwhile, just because this is our final content update doesn't mean this has to be the end of Mutazione. There are still new seeds to collect, and an almost limitless number of musical soundscapes to arrange for yourself in our beautiful standalone Garden Mode that you can access anytime:
Experience a special garden 'Cloud Garden', not playable in the main game.
Find new seeds, instruments and animals.
Seed share with your friends! (PC/Console only)
That's us for now! And when we say 'bittersweet' - one of the 'sweet' parts of that is that we're moving onto new and exciting unannounced projects, so stay tuned and keep an eye on our socials for more announcements from us in the future.
Special thanks to our publishers Akupara for all their dedication to bringing our musical, supernatural and story-driven adventure Mutazione to so many new audiences. And thanks, too, to the platforms, public funders and peers who have helped us made the game possible. Don't forget to check out the credits when you play the game!
PlayStation 4 | Steam | itch.io | Apple Arcade | Xbox platforms | Nintendo Switch
You can find links to all stores, merch and more at: mutazionegame.com